Client Work
American Planning Association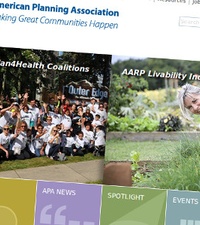 The American Planning Association (APA) is a nonprofit education and membership organization. Members include practicing planners, planning students, elected and appointed officials, planning commissioners, and interested citizens. APA includes a professional institute for certified planners, forty-seven chapters, twenty divisions, and special memberships for students. As a professional membership association, the APA and its chapters host a large number of events throughout the year.
APA engaged Imaginary to upgrade and consolidate their multiple event applications into one solution using the open source Django web framework. The updated event management application allows event administrators to establish event-specific pricing and scheduling rules utilizing a single, centralized system.  In addition, Imaginary created a new and efficient search, logging, and registration tool for members, and streamlined the submission and review process.
Vist the site at www.planning.org.