Overview
Founded in 1995, the Society is the primary leadership organization for general surgeons who treat patients with breast disease. It has more than 3,000 members in the United States and 35 countries throughout the world.
The Society wanted to create a public information resource, apart from its main membership website, to provide credible information to those seeking information about breast health.
Objectives
Completely new website with a more consumer-centric feel.
Educate patients with breast disease (and their loved ones) about breast issues to help alleviate concerns
and worries and improve their overall experience.
Connect patients to breast surgeons via the American Society of Breast Surgeons directory.
The need for comprehensive information written in an easy to understand voice.
Frequent content additions without need of technical staff.
Ability to quickly gain SEO momentum.
breast360.org is an example of a multi-pane long scroll design.  Each pane is controlled by the CMS that allows users to click on a pand and add a spanning image, headlines, text and links along with positioning and other granular controls.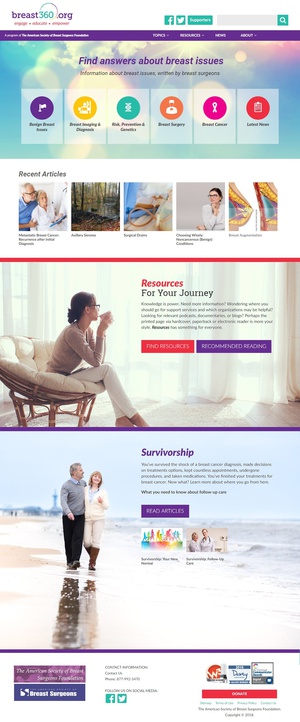 Approach
Custom multi-pane design template with use of warm and inviting imagery.
Tight integration with CMS to allow content authors the ability to add, edit and reorder content panes in a variety of layouts.
Responsive design with multiple breakpoints to accommodate the variety of devices used to view website information.
Submission to multiple award sites to assist with inbound linking and press coverage to jump-start SEO efforts.
The site is responsive.  The transition from the wide viewport to the narrow includes several breakpoints. The main horizontal navigation switches to a hamburger menu. Also, the position of the search icon has changed and its input field is hidden (available when you touch the icon with your thumb).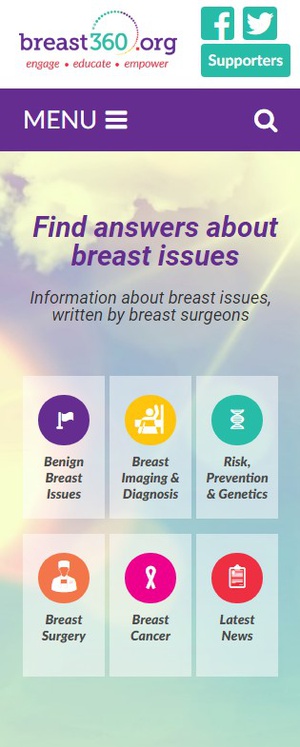 Results
Within one year, the site generated 13,000 visitors and 30,000 page views per month. In addition, the site was recognized for its design and content and awarded the following awards:


"As physicians, we see that information found on the web is having a major influence on the decisions patients are making regarding their breast health care.  As a result, we wanted to provide a patient-centered resource that they can not only easily understand, but also trust, and Imaginary helped us implement that vision." 

- Deanna Attai, MD, President of the American Society of Breast Surgeons