Client Work
ClearObject
I value having Imaginary as part of my Django development team. Their insightful architecture, design, and implementation choices has impressed our customers.

Ben Chodroff, Chief Technology Officer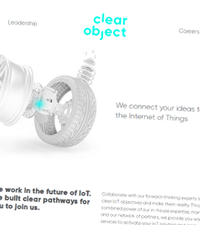 ClearObject brings enterprise applications to the cloud, enabling global collaborative development, production and analysis of software and products in real time on individual, secure, private hybrid cloud environments.
Imaginary Landscape collaborates with ClearObject on the design, programming and maintenance of their client portal technology.  This portal monitors, tracks and optimizes utilization of software.
Securing a web development firm that offered a high-level of expertise with the Django web framework and a flexible partnership was essential to ClearObject.  Imaginary has extensive experience working with start-up companies, and understands the need to be accommodating to their changing environment. The power to rapidly expand and scale based on business demands continues to be valuable to the quick rising ClearObject.