Overview
Mohawk is one of the largest supplier of bus parts, furnishing more than 50,000 parts for the transit and motor coach industries.
The Mohawk site was dated and in need of a modern and mobile-friendly redesign.  In addition, its complex inventory and pricing contracts required more streamlined pathways for its customers.
Objectives
Increase mobile traffic to store.
More modern aesthetic to align with the company's technology focus.
Content management system to allow for distributed authorship.
PCI-DSS Compliance for ecommerce.
Upgraded architecture.

The old website was fixed-width and dated and did not properly convey the sophistication of the business.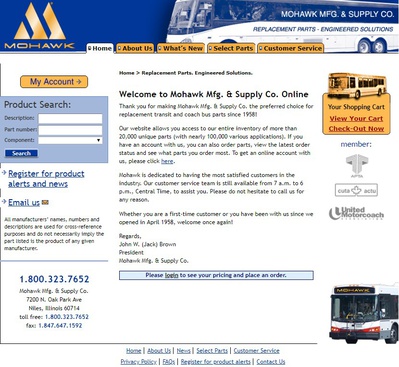 Approach
Customized design to match the website with existing company aesthetic.
Responsive design to allow users to access the site from any device.
New content management system designed for the casual user.
Updated ecommerce flows to maintain PCI-DSS Compliance.
Updated cloud-based architecture for flexibility.
More imagery, shapes, whitespace and information is contained in the longer-scroll redesign.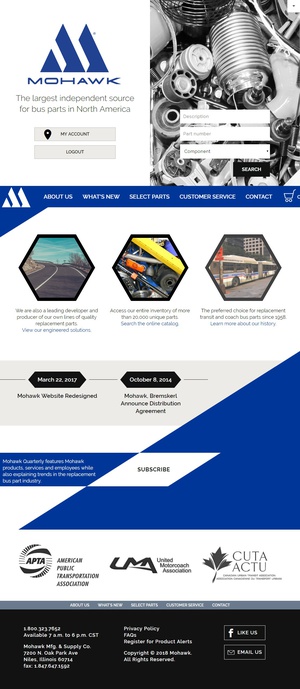 Results
In the three months following go-live, mobile and tablet traffic within the Mohawk Shop increased 79% compared with the three months prior.  At the same time, mobile and tablet bounce rate decreased by 24%.
We've been working with Imaginary since 2007. They've proven to be a reliable partner in delivering consistent, high-quality web services, and their work has strengthened our competitive position.

- TJ Brown, Inside Sales and Marketing Manager for Mohawk