Client Work
Sarah Bush Lincoln Health Center
As a rural healthcare provider, the web plays a significant role in connecting with our local community, and Imaginary has contributed substantially in the execution of our vision.

Patty Peterson, Public Relations Director for Sarah Bush Lincoln
Imaginary Landscape has a longstanding partnership with Sarah Bush Lincoln Health Center, a comprehensive provider of health care services in rural Illinois. Most recently, Imaginary implemented a state-of-the-art, multiserver, cloud-based hosting infrastructure for Sarah Bush Lincoln. This offers greate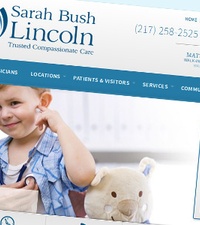 r flexibility and responsiveness to the changing landscape of rural healthcare delivery.  In addition, Imaginary implemented a new, responsive website design to better address the web needs of healthcare consumers. 
Besides a new design and infrastructure, Imaginary updated Sarah Bush Lincoln's physician directory, event calendar, and news center to provide an improved user experience.  Imaginary also extended the new design across their physician recruitment microsite.
The new site design was significant to Sarah Bush Lincoln's web strategy by providing patients an improved user experience, and extending the reach and attracting new patients beyond their traditional service areas.