Client Work
Varieties of Democracy Project
We were looking for a firm that could get up to speed quickly on the large database, several intricate interfaces, connections to a remote database, and the systems administration. We also wanted a firm with a proven record of developing creative new functionality.

Michael Coppedge, a V-Dem principal investigator and political science professor at University of Notre Dame.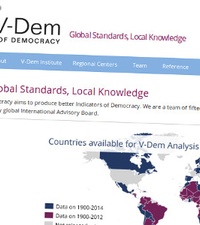 The Varieties of Democracy project is one of the largest data collection and analysis initiatives in the world spanning 168 countries and more than a century of data.  
It is a collaboration among more than 50 scholars worldwide with institutional homes at the University of Gothenburg, Sweden and the University of Notre Dame.  The V-Dem website consists of 20 million democracy-related data points for all 168 countries from 1900 to the present.  
At its core is a sophisticated web platform that facilitates the collection, aggregation and presentation of more than 400 democratic indicators which the public can use to compare and contrast historical levels of democracy across the globe.
The Varieties of Democracy team engaged Imaginary Landscape to redesign its server architecture to a more modern, cloud-based system and to consolidate all site functionality within the Django web development framework.  Imaginary utilized state-of-the-art tools to create a new front-end interface allowing users to select and graph the complicated data in an easy-to-use way.  
Because V-Dem is an international effort, Imaginary developed a multilingual question manager, survey manager, content management system and news center.  In addition, Imaginary configured a multilingual search engine that includes both site content and uploaded documents.  Currently, the site is available in English, Spanish, French, Polish and Arabic.  
Most recently, Imaginary converted the website into a responsive design allowing easy access from tablets and smartphones.
Visit the site at: Varieties of Democracy Project