Overview
Leading Laboratories is a collaboration between the American Society for Clinical Pathology and The Joint Commission.  It is a new program designed to recognize excellence in laboratories based on a number of stringent criteria.  Laboratories can apply for consideration through a special website, leadinglaboratories.org. 
The website needed to be built, tested and deployed in under two weeks to ensure it was ready for the program's announcement at the ASCP Annual Meeting.
Approach
Provision and configure cloud server.
Convert prototype into responsive website with appropriate breakpoints.
Design of secure application form, including email notification.
Load test website and adjust configuration as needed.
Add monitoring tools to monitor health of server and website.
Create and execute a cross-organization communication plan.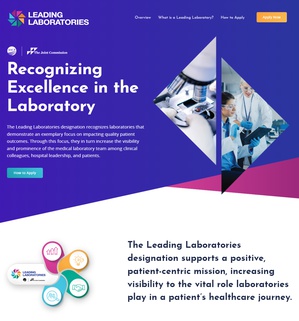 Results
The site was ready in ten days, allowing for a seamless launch during the ASCP Annual Meeting.  The launch traffic did not affect the sub-second response time of the site.  Laboratories from across the country are applying for consideration through the website.
We needed a very fast turnaround time with no margin for error.  Imaginary worked with all the stakeholders across both organizations to deliver ahead of schedule.  It was a flawless launch.

- Mark Moen, Chief Information Officer, American Society for Clinical Pathology